Skip to main content
It looks like you're using Internet Explorer 11 or older. This website works best with modern browsers such as the latest versions of Chrome, Firefox, Safari, and Edge. If you continue with this browser, you may see unexpected results.

Dawsonera
Downloading the whole e-book
Dawsonera e-books can be read online or downloaded for up to 7 days and read using Adobe Digital Editions on any compatible device.
Similar to ProQuest Ebook Central e-books, the document is readable with screen reading software or text-to-speech readers, including Apple VoiceOver, JAWS, NVDA and NaturalReader. There are keyboard shortcuts in the Getting Started guide that is installed along with Adobe Digital Editions.
Adobe Digital Editions is designed to work with assistive technologies on Mac and Windows. It has support for full keyboard controls (tab navigation and shortcuts), improved text enlargement, and support for high-contrast modes.

Enlarging Text
There are two methods to magnify text, either using the Read Online Mode or using Adobe Digital Editions after downloading the whole e-book.

Method One: Enlarging text in the Read Online Mode
In the e-book item record page, click on the "Read Online" icon. Then click on the arrow icon to "Hide sidebar".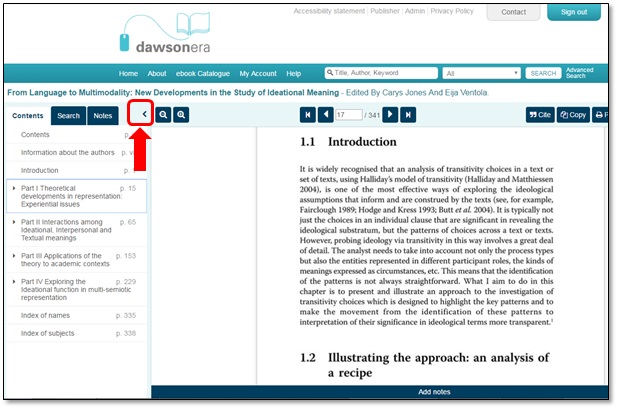 You can enlarge the text further by using the automatic zoom button.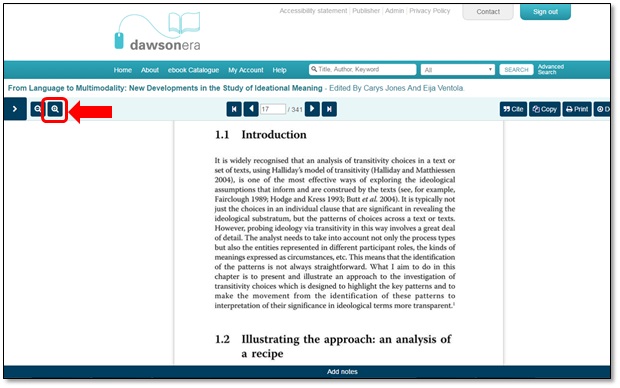 The text will then be magnified.
Method 2: Text magnification in Adobe Digital Editions
Click on the "Change page view" tab to enlarge the page such as to "Fit width" or zoom up to 4x.