Skip to main content
It looks like you're using Internet Explorer 11 or older. This website works best with modern browsers such as the latest versions of Chrome, Firefox, Safari, and Edge. If you continue with this browser, you may see unexpected results.

ProQuest Ebook Central Normal Read Online Mode
Text magnification using normal Read Online mode
In the default ProQuest Ebook Central reader, click on the Zoom-in icon to enlarge the text.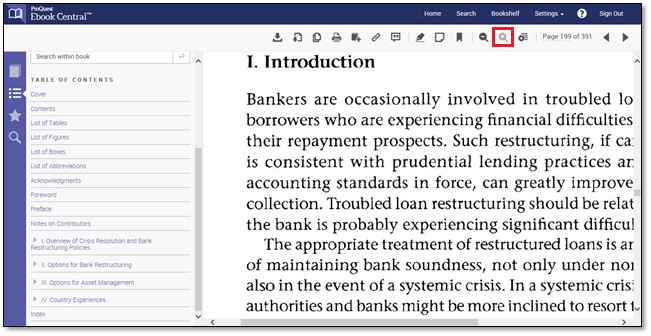 You can magnify the text up to a fixed percentage. Use the horizontal scrolling bar to read text from left to right. Use the vertical scrolling bar to read continuously page after page. The usual display of ProQuest Ebook Central books (when reading them online) is not screen-readable.

ProQuest Ebook Central Screen-Readable Accessibility Mode
Displaying screen-readable accessibility mode
There is a
screen-readable accessibility mode
to ease navigation and reading by screen readers. A limited set of icon-based tools are available: Full Download, Chapter Download, Print to PDF, Add to Bookshelf, Share Link, and Get Citation. You can only view one page at time. At the end of each page you can select a link to either go to the previous page or next page of the ebook.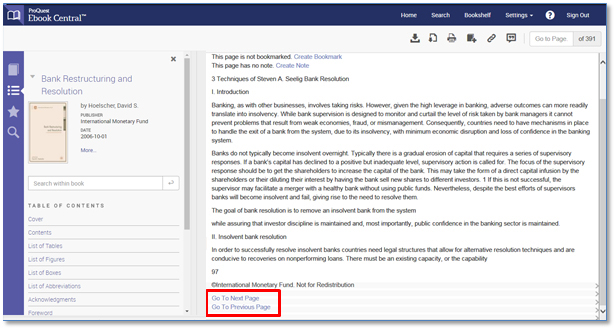 ProQuest E-book Central Screen-Readable Accessibility Mode

There are two ways to activate this special screen-readable "accessibility" mode, according to the ProQuest Ebook Central LibGuide:
First method: If you are running a text-to-speech screen reader, simply have it 'read' the banner at the top of the e-book's read-online page. It will 'read' the option of displaying the book's content in screen-readable-text mode. Once that is turned on, the text of the ProQuest Ebook Central book can be read by the screen reader.
Second method: You can contact ebooksupport@proquest.com to request to have screen-readable-text mode enabled for your ProQuest Ebook Central username. For NIE staff and students, your username is your NIE Login Account username.
When you log into ProQuest Ebook Central the next time you will be automatically signed in to your ebrary account. After selecting the option to "Read Online", the content of ProQuest ebooks will display in screen-readable-text mode.
You can then use the screen-readable-text mode in conjunction with JAWS or another text-to-speech program such as
Apple VoiceOver
or
NaturalReader
.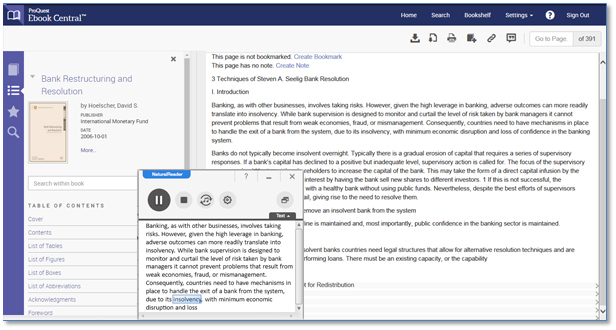 Downloading the Whole E-book in Adobe Digital Editions
Downloading the whole e-book
When you click on the "Full Download" button on the item page, you can download the
entire document
for 7 or 14 days and read it using
Adobe Digital Editions
on any compatible device.

Adobe Digital Editions is designed to work with assistive technologies on Mac and Windows. It has support for full keyboard controls (tab navigation and shortcuts), improved text enlargement, and support for high-contrast modes.

Text magnification in Adobe Digital Editions
Click on the "Change page view" tab to enlarge the page such as to "Fit width" or zoom up to 4x.